Denton County Family Lawyers
Solving Family Disputes in Carrollton, Flower Mound, Lewisville, & Beyond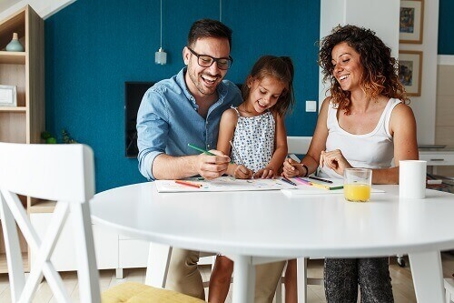 Even the most straightforward family law case can put incredible stress and pressure on your shoulders. These cases cover some of the most sensitive issues in your life and can have far-reaching implications on your and your family's future. If you need counsel or representation in any legal issue that involves your family, you need an attorney who can handle your case with compassion. Haugen Law Firm, P.C. understands the importance of preparation and will go the extra mile for you. John Haugen is a former captain in the U.S. Army and knows what it means to prepare, strategize, and win.
Haugen Law Firm, P.C. is a client-focused and detail-oriented firm. You don't just need to take our word for it – read through what our past clients have said about working with our firm. Contact us today to discuss your case with a Flower Mound family law attorney from Haugen Law Firm, P.C., and begin planning your next steps.
Do you need legal support for your family law matter? Call Haugen Law Firm, P.C. today at (972) 436-8750 or contact us online to schedule a meeting with our family law attorney in Denton County!
Work With a Family Law Firm You Can Trust
The most common family law issue our firm sees are divorce cases, as well as all the other issues that are involved in the divorce process. No two marriages are the same; therefore, no two divorces are the same. Our Flower Mound family lawyer recognizes this and can provide a tailored approach and solution to each issue you face during your divorce. While divorce cases are the most common type of case our firm deals with, we have considerable experience covering a wide range of family law issues including:
Contact Our Denton County Family Law Attorney Today
Haugen Law Firm, P.C. is dedicated to each client's personal goals. The firm provides individualized attention so that each client has complete confidence in their lawyer's ability to manage their case. Weekend and after-hours appointments are available for clients' convenience. Our firm has established a reputation for being responsive to your needs by answering your phone calls, emails, or missed calls right away, or at the very least, on time. You will have the full support of your attorney when you choose to retain Haugen Law Firm, P.C.
Our firm is highly supportive of the U.S. military. Attorney John Haugen is a former captain in the U.S. Army and has been trained to understand the importance of preparation. The key to success is that all parties understand preparation, planning, and strategy. These principles are evident in Attorney Haugen's handling of each case and increase each client's chance of success. The firm also offers a discount to active duty military, teachers, firefighters, and military veterans. Our Denton County family lawyers serve clients throughout Denton County, including Flower Mound and Lewisville.